dynamic therapeutic learning experiences
Our Therapeutic Adventure Program (TAP) is a prevention, intervention, and maintenance program that creates a safe emotional space where clients feel empowered to push themselves past their perceived limits in order to achieve personal growth. Within the 6 programs that are housed under TAP, we provide over 7,800 participant service days each year to youth and adults.
TAP is the essence and manifestation of the Mountain Center's Wilderness Experience Program (WEP) which was primarily active in the late 70s, 80s, and 90's. WEP, as it was known, took groups into the backcountry for 20+ days, engaging in activities such as rafting, rock climbing, and backpacking. These elements of adventure are still embedded in our programs.
The Mountain Center group programs have elements of our Therapeutic Adventure approach, where we prescriptively design programs that meet the presenting needs of each client group. Our work engages participants through activities and experiential methods so they can experience challenge and success, and then transfer their learnings metaphorically into their lives.
Our referring agencies include treatment centers, juvenile justice programs, protective services, schools, tribal social services, shelters, and other wellness programs.
They report the following positive outcomes for participants:
93% credit our program with having a positive impact on participants' sense of personal power, capabilities, and potential
91% agree that our methods helped participants improve their self-concept, self-esteem, and self-efficacy
One referral agent shares this: "I think the most effective aspect of the program was that it allowed the students to participate in shared experiences where they were required to step out of their comfort zone, challenge themselves, and support each other."
Our Adult Recovery programs follow our innovative Therapeutic Adventure Program model, which uses a strength-based, positive development approach to provide intervention, prevention and maintenance services to adults (18+) struggling with substance use. These services are available to residential treatment centers, outpatient treatment centers and community members in recovery.
The physical and psychological challenges are designed to:
Stimulate social competencies and personal growth

Deepen personal values

Expand individual capabilities

Provide awareness around identity development

Develop self-confidence and insight

Improve interpersonal skills and relationships
The Mountain Center's response to a pressing social need in New Mexico regarding substance use is to provide ongoing support to those members of a community who are struggling with these issues. Programs include weekly or bi-monthly day programs with residential treatment centers and intensive outpatient programs on-site (at the facility) or in a wilderness setting and an open-enrollment program for adults in the maintenance phase of recovery (open to the community).
Adventure Out!
Adventure OUT! promotes adventure, health, wellness, and community among gay, bisexual, queer, transgender, and non-binary and MSM (men who have sex with men) individuals in New Mexico. We integrate HIV prevention with experiential education.
Since being founded in 1996, Adventure OUT! has given these individuals and their communities a way to come together in a substance-free setting, a space where they can talk about personal wellness and the wellness of their communities while building stronger connections to self, to nature and to others.
We're also fun. And very engaging. And another big part of our work is outreach—reaching out to our communities. No organization in New Mexico is doing this type of prevention work—building community that comes from being out in nature. This brings people together in a way few other programs do, and helps folks learn about the different resources and access different organizations in different ways and talk about all these things.
Courage To Risk
Courage to Risk provides Therapeutic Adventure programs for groups of survivors of violence and trauma, including children and adults affected by domestic violence, child abuse, and sexual assault. We focus on trauma-sensitive, somatic modalities that cultivate awareness and connection to ourselves, each other, and Nature. Programs are a fun and engaging way for survivors to find support for healing and growth and help increase personal power as well as a sense of belonging and community.
Funding for the program is leveraged through the New Mexico Crime Victims Reparation Committee, the Children, Youth and Families Department, the Behavioral Health Department, and private and tribal money.
Youth Resiliency
Our Youth Resiliency Program works with youth-at-risk involved in the Juvenile Justice System, treatment centers, drug court, and shelters. This program primarily works with intact groups to prescriptively design programming adjunctive to the partnering agency's goals for the clients. Like many TAP programs, we work to build a program with activities (ropes course, hiking, rock climbing rafting, etc...) that embed lessons such as the "stages of change model" and process the experience in a way that the client can apply the lessons learned back into their life.
In our Youth Resiliency Program, we travel all over the state of New Mexico providing Therapeutic Adventure Programs to youth and young adults from Las Cruces to Gallup to Albuquerque, to Santa Fe, to Farmington. We love to support the youth and agencies we work with in all of New Mexico's beautiful communities.
Adventures In a Caring Community
Adventures in a Caring Community (ACC) is an experiential bullying prevention program that creates a caring community by teaching bullying intervention skills, increasing social engagement/empathy and decreasing stress and anxiety. The National Registry of Evidence-based Programs and Practices (NREPP) listed ACC as an evidence-based practice in 2016.
ACC works with the entire fifth-grade level within an elementary school throughout the school year. Students participate in multiple experiential classroom sessions and two ropes-course field trips at local Mountain Center sites. Students work as a class and in small groups, participating in cooperative games, problem-solving initiatives, experiential lessons, role-plays, debrief/reflection time and low and high ropes-course events. These sessions focus on practicing the skills necessary to support healthy peer relationships, create a caring community and increase resiliency skills.
Program results included:
Greater resiliency
Healthier peer relationships
Less bullying
Safer classrooms
We also offer experiential bullying prevention training on how to implement components of the Adventures in a Caring Community curriculum.
summer youth programs
Programs are nature-based and focus on building community, effective conflict resolution and self-regulation skills, play, creativity, building resilience, and connecting to nature.
TMC "LITTLES" – AGES 3-5 years old
Progam full, but please sign up for the waitlist.
June 7-August 27, 2021
Monday-Thursday, 8:45 a.m.-3:00 p.m.
Developmental requirements may apply.
AGES 6-12 years old
June 1-August 13, 2021
Scheduled in 2-week blocks
Monday-Friday, 8:45 a.m.-3:00 p.m.
Programs are nature-based and focus on building community, effective conflict resolution, and self-regulation skills, play, creativity, building resilience, and connecting to nature.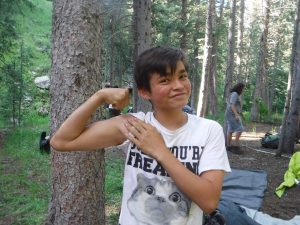 TEEN LEADERSHIP for AGES 13-17
Small groups of 6 to 8 participants meet for adventure and nature-based outings with a focus on leadership development. Participants work on developing and increasing self-efficacy, learn outdoor and peer leadership principles, and utilize and relate leadership and processing skills to everyday life.
June 2021, Tuesdays and Wednesdays,
9:00 a.m.-3:00 p.m.
Culminates in a 3-day camp June 22-24, 2021.
E-MAIL: summeryp@TheMountainCenter.org