We reached the summit in our Capital Campaign! Thanks to you, a new ropes course and yurt are coming to The Mountain Center.
We are thrilled to share the news of The Mountain Center's successful capital campaign. Thanks to your unwavering support and generosity, our organization has successfully completed a remarkable feat of raising over $220,000 to rebuild our ropes course and add a new yurt at our Tesuque facility.
Thanks to our donors. Their dedication, passion, and commitment have made a significant impact on our mission to provide outdoor adventure behavioral health programs to individuals and families in New Mexico. Over the last ten years, we have created transformative opportunities for personal growth, resilience, and healing for as many as 46,000 individuals.
With the funds raised, we will be constructing a state-of-the-art climbing wall and ropes course as well as a 35' yurt. These additions will greatly enhance the experiences we offer to our participants.
The Mountain Center (TMC) was founded in 1979 as a wilderness therapy program hosting 21-day wilderness experiences for New Mexican adults and youth involved in the justice system or other behavioral health agencies. We evolved to be a community-based nonprofit, expanding our services to address a host of community needs. 
In the 1980s, we started utilizing the ropes course as a therapeutic tool and immediately witnessed its transformational benefit. By the early 1990s, TMC erected a ropes course at our location in Tesuque, NM, which initially consisted of three elements, but eventually grew to five during the early 2000s. 
Today, TMC still relies heavily on the ropes course as an essential tool to support participants as they overcome adversities and recognize their potential. 
The ropes course built in the 1990s and 2000s is nearing the end of its useful life. The new ropes course is in the works. 
INDIVIDUALS SERVED IN 10 YEARS
PROGRAMS DELIVERED IN FY2021
TOTAL PROGRAM HOURS A YEAR
About The Mountain Center's Ropes Course
Ropes courses support participants as they build and strengthen self-confidence

 

Individuals draw on physical, mental and emotional skills like balance, focus, and determination

 

At our last inspection in 2021, we were informed that the current structures have to be retired within the next two years

 

A new ropes course will easily last 25 years and serve over 150,000 clients

 

In fiscal year 2021, our Therapeutic Adventure Program provided 620 programs, 3038 program days, and 2698 program hours to participants from across the state
Our ropes course is used in all Therapeutic Adventure Programs, including Emergence

 

Our ropes course is fundamental to Adventure Therapy – which crosses over to our Transitional Living Program and Counseling Services
Benefits and Value of a New Ropes Course
Enables individuals and communities to overcome adversities, recognize their potential and builds resilency

Builds on individuals skills in cooperation and communication, self efficacy, empathy, problem-solving, self-awareness and goal setting

Strengthens skills in regulation, mindfulness and positive social emotional experiences

Therapeutically creates an environment that fosters community as well as transfer of learnings back into the lives of the participant

New Ropes Course will have a lifespan of 25 years or more
Benefits and Value of a Yurt
Clients will benefit from our increased ability to accommodate groups and programming

Inclement weather or dark nights will no longer impede serving clients

On-campus indoor programming will foster a deeper connection to nature and community

Clients' needs for privacy and a safe-feeling environment will be honored at a superior level

The Yurt will become another tool in TMC's tool box to provide experiential education and nature based programming

Administration will be able to work more effectively without the disturbances of groups inside the office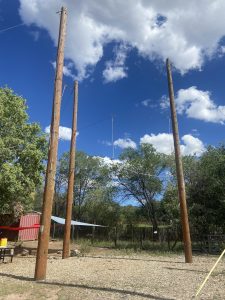 THANK YOU TO OUR CAPITAL CAMPAIGN SUPPORTERS!
PINNACLE | $20,000+
Anchorum
Olson Family Fund
Perillo Family Fund
Cecile Farris
SUMMIT | $10,000+
Chris Ford
Cyndie and Roger Gullickson


PEAK | $5,000+
Las Campanas Community Funds
Enterprise Bank and Trust
Avalon Trust
CLIMBER | $2,500+
Sommer Karnes & Associates LLP
Abuelos del Corazón Rosy Verdile
CIBC Private Wealth
TREKKER | $1,000+
Catherine Chicoine
EMR Bear
Dr. Michael Gass
Alexa Kirkwood Hirsch Fund
ABCD Fund
HIKER | $100+
Dr. Jill Griffin
Jim Siebert
Michael Mendez
Seth Fullerton
Sandra Wang
Julia Anderson
Austin Evans
Dotti Graviet
HUB Southwest
Kory Goold
Shane Muth
NMHU's Grant Writing & Resource Acquisition class Fall 22
Dr. Paul Richard Golding & Bonnie Ellinger
Mary Anne and Al Sanborn
Lotus Home Management
Story and James Leonard
Jim and Tina Hille
Andy and Linda Spingler